Speedway
Click on the Virtual Sports button on the upper menu.

Then, click on the "Speedway" button in the left menu.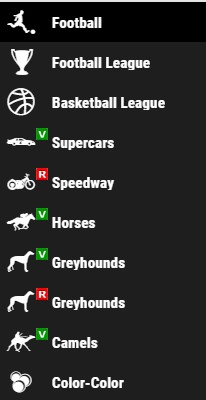 Now, you'll see all the events happening at the moment and the schedule for next games. In addition, you'll see all the necessary information to make your bet safely.
After selecting the market you want to bet on, you'll see your bet in the betting coupon in the right menu.
Important information:
Each race lasts an average of 20 to 45 seconds.
The competition has 6 to 8 racers.
You have between 30 to 90 seconds to make your bets before the bet starts.
The final result will be showed for 15 seconds.
The first three winners will be considered, the position of the others does not affect the result.
After the result is showed, the countdown begins for the next game.
Did you find what you are looking for?