How does the Bet Slip work?
The Bodog Bet Slip interface is incorporated into the lines page which makes placing bets easier than ever.
Here's a brief summary: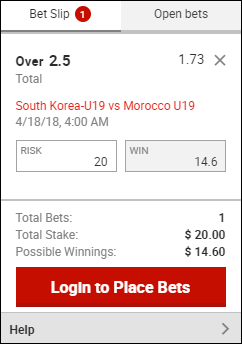 As soon as you select a line you would like to wager on, the Bet Slip will be shown on the right hand side of the screen.
Enter either the amount you would like to risk or the amount you would like to win in the boxes provided. The total win and risk amounts are calculated for you and are shown in the summary at the bottom of the Bet Slip. Multiple wagers can be added on the same Bet Slip; however, if you wish to delete a single selection from your Bet Slip, click on the "X" icon.
Other possible wager types will be shown on your Bet Slip. Simply check the box to activate the desired type of bet without having to change tabs above.
The total stakes for your current bets and the potential maximum win amount on those bets will also be shown on the Bet Slip.
The Bet Slip indicates the number of wagers selected.
To view your pending wagers, click on the calendar icon in the top right hand corner of the Bet Slip.
Note: While logged into your account, your 'Playable Balance' (cash balance and any Sports bonuses) will be shown just below the Bet Slip.
Did you find what you are looking for?