What is a simple bet?
A simple bet is the most common way to bet. This is simply because you only bet on one result, either the winner of a match or the team that will score the most goals. The number of bets for odds offered determines how much you will win, if your bet is a winning one.
How to make a simple bet
Login to your account and click on the "Sports" option on the top menu.

Click on "All sports" and choose your favorite category.

Now, simply choose the championship that you like the most and the market in which you will bet.

By clicking on the market you want, your bet will go directly to your betting coupon on the right of the screen.

In the Betting Coupon enter the value you want to bet and automatically you will see the value you can win. Then, if you think everything is correct and you are ready to start, click on "Bet".

Done! Your bet was made. You can find the reference number on your Coupon.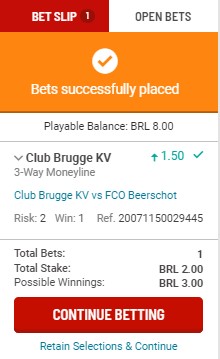 If you want to continue betting you can click on the button "Continue Betting" and return to the Sports main page.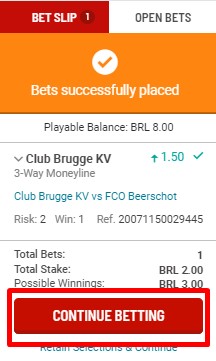 Did you find what you are looking for?