What is a Quarter Ball?
A Quarter Ball gives teams two virtual or total spreads that are a combination of a half goal handicap and a full goal handicap.
Your risk value is divided equally between a half goal bet and a full goal bet.
This is how it appears on your Betting Coupon: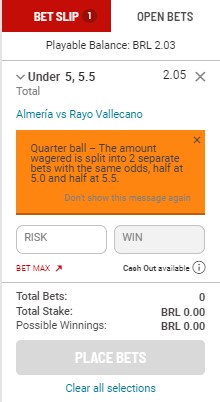 - If you bet USD 20 on "Under 5 and 5,5 goals" in the match between Almeria and Rayo Vallecano, then you would have two separate bets of USD 10 (with the same chances) on "Under than 5" and "Under than 5,5 goals".
- To win both sides of your bet the total would need to be 4 or less.
- If the total is exactly 5 goals, your bet of USD 10 in "Under 5" will be non-winning and you will receive USD 10.
- If the total number of goals scored in the match is 6 or more, both bets will result in a loss.
All Quarter Balls are subject to the Football Betting Rules.
Did you find what you are looking for?