What are the bet limits?
The minimum stake is USD 0.50.
The maximum bet depends on each sport, championship, match or specific market. Bodog has the right to change the limits of any event, at any time. If the user tries to make a bet higher than the established limit, he will be informed of the maximum value of the event or market in which he wishes to bet.
You can see the maximum value that you can bet in each market in your Coupon, through the MAX BET button: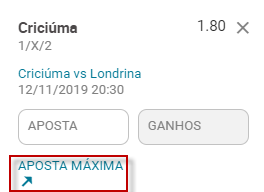 Remember:
- The betting limits can be increased or reduced at the discretion of those responsible for those lines.
- The betting market varies all the time, so you need to confirm the value you want to bet.
- No payment of any bet will exceed the values that appear in your Coupon under any circumstances.
Did you find what you are looking for?