How do I buy points?
You can 'buy points' on NFL, NCAA Football, and any Basketball point spreads from your Bet Slip.
Buying points moves the point spread by half a point increments to either:

- Give away less points with the favorite.
- Get more points with the underdog.

For NFL and NCAA Football, the cost of buying half a point depends on the point you are buying onto (i.e., 3, 7 or other) and whether the odds are standard (-110) or off-standard (e.g., -120). There is no such premium in Basketball.

In NFL and NCAA Football:
You can buy half a point onto a flat number only (e.g., from +4.5 to +5 or from -4.5 to -4).

In Basketball:
You can buy up to one and a half points from any whole or half number (e.g., from +4.5 up to +6 or from -5 down to -3.5).

How to Buy Points

1. On the bet slip, under the details of your bet, select 'Buy 1/2 point' from the drop-down menu.
2. The point spread and odds for each bet are automatically recalculated for you, and your total risk and win amounts are updated at the bottom of the Bet Slip.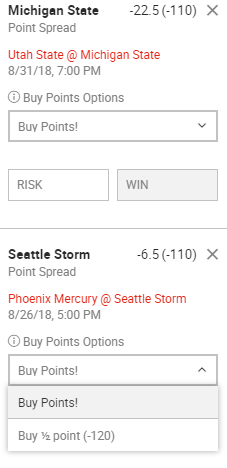 Rules for Buying Points

1. Wagers must be placed on the outcome of a single event or game, and all standard rules apply.
2. The team you bet on must win by the point spread you have bought.
3. The maximum number of points you can buy is ½ point on Football and up to 1½ points on Basketball.

The Cost of Buying Points

Standard odds

With standard odds, the cost of buying each half a point is .10.
However, the following exceptions apply when buying points for NFL and NCAA Football:

- You can buy half a point on a spread of 3 (from +2.5 to +3 or from -3.5 to -3), but you are charged a total of .25 for NFL point spreads and a total of .15 for NCAA Football point spreads.
- You can buy half a point on a spread of 7 (from +6.5 to +7 or from -7.5 to -7), but you are charged a total of .15 for NFL point spreads. The cost remains at a total of .10 for NCAA Football.

For example:
- Suppose the New York Jets are 5.5-point underdogs (+5.5). To move the spread to +6 points, you need to buy half a point. The cost of doing so is a total of .10 - which means that you must now bet $120 instead of $110 to make a profit of $100.
- Now suppose the New York Jets are 2.5-point underdogs (+2.5). To move the spread to +3 points, you need to buy half a point again. However, because it's an NFL game, the cost of doing so is a total of .25. You must now bet $135 to make a profit of $100.
- Similarly, if the Wisconsin Badgers are 3.5-point favorites (-3.5), you can buy half a point to move the point spread to -3 points. This time, because it's an NCAA Football game, the cost of doing so is a total of .15. You must now bet $125 to make a profit of $100.

Off-standard odds:

With off-standard odds, the cost of buying each half a point depends on whether the odds are greater than or less than -110 (standard odds). The same exceptions for the NFL and NCAA Football outlined above apply. For example:

- If the odds are positive or greater than -110 (e.g., -105; even; +145), a charge is applied to bring the odds to -110 before the .10 is applied (or .25/.15 if you're buying onto a spread of 3 or 7 with NFL and NCAA Football).
- If the odds are less than -110 (e.g., -115 or -165), the charge of .10 is applied directly (or .25/.15 if you're buying on a spread of 3 or 7 with NFL and NCAA Football).

Costs are tabled below:


| | | | |
| --- | --- | --- | --- |
| Original Odds | After Buying ½ Point | After Buying 1 Point | After Buying 1½ Points |
| Basketball | | | |
| +8.5 (-110) | +9 (-120) | +9.5 (-130) | +10 (-140) |
| -3 (-105) | -2.5 (-120) | -2 (-130) | -1.5 (-140) |
| +1.5 (+110) | +2 (-120) | +2.5 (-130) | +3 (-140) |
| +4 (-115) | +4.5 (-125) | +5 (-135) | +5.5 (-145) |
| NFL | | | |
| +3.5 (-120) | +4 (-130) | n/a | n/a |
| +3.5 (-105) | +4 (-120) | n/a | n/a |
| -3.5 (EVEN) | -3 (-135) | n/a | n/a |
| -7.5 (-120) | -7 (-135) | n/a | n/a |
| NCAA Football | | | |
| -3.5 (EVEN) | -3 (-125) | n/a | n/a |
| -7.5 (-120) | -7 (-130) | n/a | n/a |